Upcoming Events
HOT BEEF ON RYE LUNCHEON
Thursday Aug 25 11:30-1pm at St. Pauls' Methodist Church Shawnee 10th & Beard St. Enter at the 10th St door. Hot beef /rye sandwich, cole slaw, deviled egg, drink and dessert $15. Pre sale tickets only…from any Spar volunteer, at the St Paul Church office or by calling 405-275-2167. Whole Dessert auction starts at 12:15..Carry out available with ticket. Please let us know if you want to donate a dessert to auction!
Previous Events
SPAR Garage Sale
August 5th & 6th, 2016
1501 N. Union, Shawnee, OK

Thanks to our ANGELS for all their help with our Salad Luncheon & More on May 5th! We couldn't do it with-out them.
CITIZEN POTAWATOMI NATION
JOHN & PHYLLIS INDA
J.T. & SYLVIA WEEDMAN
JEFF & NANCE DIAMOND
CO. COMM. MICHELLE DENNIS
DIANE MINIKES
CL & HELEN CRAIG
And Our Corporate Sponsors:
BDC GUNROOM – JACK BARRETT
TRETON MARR, DVM
DOGWOOD VETERINARY HOSPITAL
BERKSHIRE HATHAWAY HOMESERVICES BENCHMARK REALTY
HULL & TOTTEN, CPA'S
BANCFIRST FIRST UNITED BANK
LAST CALL LIQUOR, MCLOUD
THE DOGGIE SPOT
FREEMAN-WIDELL LAW OFFICE, PLLC
MICHELLE FREEMAN ATTORNEY AT LAW
TECUMSEH TAG AGENCY
SPAR SALAD & MORE LUNCHEON
May 5th, First Baptist Church
227 N. Union, Shawnee, OK
11:30 til 1:30

"Muses in Fur"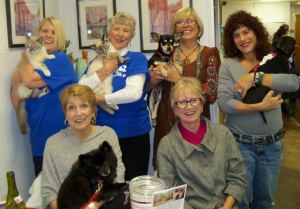 Broadway Arts
Gallery & Studio
655 N Broadway Suite B, Shawnee OK 74801
broadwayartsgallery.com
405.878.5555
CALL FOR ARTISTS
"Muses in Fur" benefiting SPAR- Saving Pets at Risk
All media accepted
Size not to exceed 20×20″
Entry fee: $10 one piece, $15 for two pieces
Artists donate 50% or 100% of the sales price to SPAR
Timeline
14-15 Nov 2014 – Drop off work 655 N. Broadway 1-6pm
21 Nov 2014 – Reception 6-9pm
12-13 Dec 2014 – Pick up unsold works
10 Jan 2015 – Checks issued
Theme
The theme of the show is pets. Artists are encouraged to visit the SPAR website
www.sparpets.org and create works inspired by animals currently in need of adoption. Artists are also encourage to create works which will be sold for $200.00 or less.
Delivery of Artwork
Work is to be delivered to Broadway Arts Gallery & Studio at 655 N Broadway Suite B.
Artists unable to arrive during the allotted time are to call the Gallery at 405.878.5555 or Email us at info@ broadwayartsgallery.com to make arrangements. Special arrangements must be made prior to the drop off dates.
All 2-D work must have hanging wire installed prior to drop off.
Show and Reception
The show will open on 11/20/2014 with a reception on 11/21/2014 from 6:00-9:00 pm. The show will close on 12/11/2014 and work is to be picked up on 12/12 or 12/13/2014 between 1:00 and 6:00pm
More information can be found on our website at broadwayartsgallery.com or call 405.878.5555 email us at info @broadwayartsgallery.com
Annual Beer and Brats!
Paint Your Pet Portrait!
July 18th, 2014
SPAR Fundraiser with the Doggie Spot
Instructor:
Yoko Loftis
Crystal Richardson
Proceeds from the event will benefit Saving Pets At Risk-SPAR. Start digging through your photos to find the perfect pet portrait to paint! You do not have to be an expert, in fact this perfect for anyone who thinks they can't paint; you will create a work of art to cherish forever.
Your pet can be a dog, cat, cow, bird, horse, etc. All supplies will be provided, plus an experience artist will lead you through the steps of painting. The artists will take the picture you email of your pet and draw it on the canvas for you. Get your pet photos too us soon. Space is limited to 10 people. A tight head shot is recommend versus a full body. Well-Lit Photos, particular with darker pets are preferred. E-mail the picture in high resolution JPEG image or cellphone photo to yoko@thedoggiespot.com by June 30, 2014. Once the artist receives your picture, she will complete your reservation by replying with an information and payment form.
Admission to the event $75 includes supplies plus hor dourves, beverages, and dessert.